Merrifield Bible
The Holy Bible Containing the Old and New Testaments,
Thomas Nelson & Sons, New York, No Date. Looks 20th
Century. I would assume that it was new at presentation -- there
is a handwriting change between 1930 and 1932. Has a soft
cover that was not meant for multi-generational use.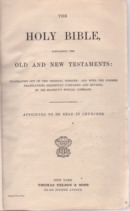 This bible is currently in the possession of Tracy St. Claire
tracy@stclaire.org .
SURNAMES:
MERRIFIELD
MEREDITH
STARKEY
SMITH
ST. CLAIR
WAITE
--------------TRANSCRIPT BEGINS HERE---
[Page One -- Front Flyleaf]
1960 -- This Bible goes tp Mary Rose. after I am done with it.
Momie Promised it to her [words written over it, illegible]. Dad
[Page Two -- Presentation]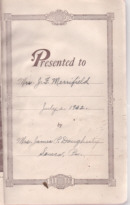 Mrs. J. F. Merrifield
July 2, 1932.
Mrs. James P. Dougherty
Seneca, Pa.
[Page Three -- Family Register]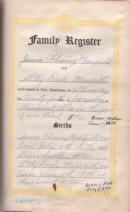 James Fleming Merrifield
and
Lilly Dale Meredith
were united in Holy Matrimony on Thursday, the twenty-fourth of
December, at Fairmont, W. Va. in the year of our Lord, 1896.
Births
Born: Mother
June 11, 1878
James Fleming Merrifield was born, July, 5th, 1878, at Barracksville,
W. Va.
Lilly Dale Meredith was born June 11th, 1878 at Fairmont, W. Va.
Born: Dad
July 5, 1878
[Page Four -- Births]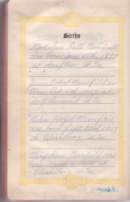 Madalene Ruth Merrifield, was born Jan. 28th, 1899 at Grafton, W. Va.
James Robert Merrifield was born Oct. 4th, 1907 at Wolf Summit, W. Va.
Helen Hazel Merrifield was born Sept. 23rd, 1909 at Clarksburg, W. Va.
Mary Rose Merrifield was born March 6, 1915, at Clarksburg, W. Va.
[Page Five -- Marriages]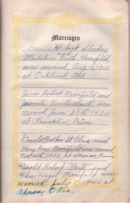 Darcie Herbert Starkey, ans Madalene Ruth Merrifield, were married,
Aug. 16, 1915. at Oakland, Md.
James Robert Merrifield and Juanita Lucille Smith, were married, June
28th. 1930 at Franklin, Pa.
Donald Walker St. Claire and Mary Rose Merrifiel were married Nov.
4th, 1932, at Sharon, Penna.
Harold Robert Waite and Helen Hazel Merrifield were married July 1,
1940 at Akron, Ohio.
[Page Six -- Deaths]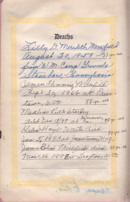 Lilly D. Meredith Merrifield August 20, 1959. -- 81 yr. old
from W. M. Camp Grounds Stonebar, Pennsylvania.
James Fleming Merrifield Sept. 30, 1966 at Pricetown, W. Va.
-- 88 yr. old
Madline Ruth Starkey died Dec 12/97 at Torrence, Ca. 98 yr. old
Helen Hazel Waite died Jan. 5, 1983 at Jamestown, N.Y.
James Robert Merrifield died Mar. 16 1998 at Grafton, W. Va.
[Obituary]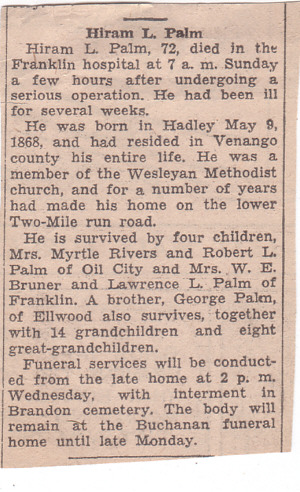 Hiram L. Palm
Hiram L. Palm, 72, died in the Franklin hospital at 7 a.m. Sunday
a few hours after undergoing a serious operation. He had been ill for
several weeks.
He was born in Hadley May 9, 1868, and had resided in Venango
county his entire life. He was a member of the Wesleyan Methodist
church, and for a number of years had made his home on the lower
Two-Mile run road.
He is survived by four children, Mrs. Myrtle Rivers and Robert L. Palm
of Oil City and Mrs. W. E. Bruner and Lawrence L. Palm, of Franklin.
A brother, George Palm, of Ellwood also survives, together with 14
grandschildren and eight great-grandchildren.
Funeral services will be conducted from the late home at 2 p.m.
Wednesday, with interment in Brandon cemetery. The body will
remain at the Buchanan funeral home until late Monday.

-----------END TRANSCRIPT------------------