Kimber and Sharpless Stereotype Edition. The Holy Bible Containing
the Old and New Testaments. Philadelphia, Kimber & Sharpless,
undated, address No. 8 South 4th Street.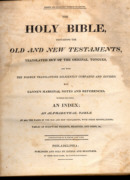 This Bible is in fine condition. The binding is solid, the spine is intact
as is the label. There is some scuffing to the leather and a weak hinge,
but it is a beauty in its original binding.
In the 1870 Census Vashni and Elizabeth were in Marietta, Crawford
County, Wisconsin.
Remarks about Thomas W. Reynolds: Riverside Cemetery in Charles City
b 1830, d Apr 4 1921, Pvt. Co B 33rd Wis. GAR.
Transcribed by and in possession of Tracy St. Claire, tracy@stclaire.org.
SURNAMES:
MILLET
BLAKETER
WINTER
REYNOLDS
SCOTT
The spelling below is verbatim -- their spelling, not mine..
-----------------TRANSCRIPT STARTS-----------------
[Page One -- Family Record Marriages]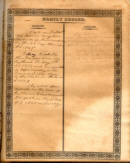 Vashni Millet was born in Croyden Cheshure Co New Hampshire
[note: now Sullivan Co.] on the 24 Day November AD 1805
Betsey Blaketer Winter was born in Scotland th May 1st AD 1819
and emegrated to uper Caneday in the Summer of 1831 then to the
States in the Summer of 1837
The above were married in the Town of Portland Chantauque Co
New York on the 31 Dec AD 1840 on Thursday
Catherine Millet was married to Thomas W. Reynolds on Sunday
the 29 of August 1858
Catey Winter was Married to William Scott on Sunday the 27 of
October 1861
[Page Two -- Family Record Births]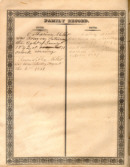 Catharine Millet was Born on Saturday the eight of Janury 1842
Simon Sibley Millet was born Saturday August the 2nd 1851
Catey Winter was born on Sunday December 22 1844 and adopted
by Vashni Miller in October 1847
[Page Three -- Family Records Deaths]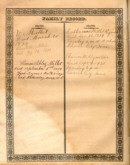 V Millet Died March 20 1884
Elizabeth Millet Died May 16 1901
Simon Sibley Millet died September 6 1854 Aged 3 years 1 month
& 4 days Died Wednsday morn 10 o
Catharine Millet Reynolds Died Dec 30 1919 Tuesday a.m.
at 11. o'clock Charles City Iowa
Thomas W. Reynolds Died Apr. 4. 1921 Monday 8 p.m.
Charles City Iowa

---------------END TRANSCRIPT----------------