Mitman Bible Pages
These pages were separated from the Bible, so the
date of the Bible is unknown. There is only one sheet,
with writing on both sides, and I suspect it was separated
from the other genealogy page(s). There is also a pin
hole where something was pinned to the sheet but
removed, all before I got the page.
This page is partially written in German, and I have probably
made many mistakes in that part of the transcript because
I am unfamiliar with the language. PLEASE view the original
before using this information.
This page is also partially typeset. The entry was not typed on
a typewriter -- it is too uneven for that.
This family appears to have been from far eastern Pennsylvania,
from the information I can glean from Internet sources that match
this Bible. -- UPDATE --
"Here's what I know about that specific page. Feietta, Minnie Johnson, Ellen
Hankey, Clara Stump and Pauline Forker are all sisters. They were the
daughters of John J. Mitman from Hanover Township, Lehigh County,
Pennsylvania. They all were members of Christ's Church in Schoenersville
PA. To get your bearings Schoenersville is a small crossroad near Lehigh
Valley Airport in the Easton, Allentown, Bethlehem area of the Lehigh Valley
in PA." -- from Earl Voorhees. Thanks, Earl!

Transcribed by and in the possession of Tracy St. Claire,
tracy@stclaire.org.
SURNAMES:
MITMAN
FAUST
JOHNSON
NANKEY
STUMP
FORKER

-----------------TRANSCRIPT STARTS-----------------
[Page One -- Geburten]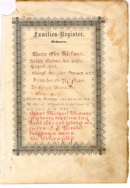 Maria Ellen Mitman Wurte Geboren den 20 ten
August 1862
Getauft den 19 ten October 1862
Durch den Chr P.F. Fischer.
Tanfgengen Baren Die Eltern Selbst.
Feietta Mitman was born on the 26 day of October
in the year of our Lord A.D. 1863
Isaac Michael Mitman ist geboren den 17 den Tag
April 1865 und gesauft von herrn J.F. Brendel Taufzeugen
waren die Elternfelbft
[Page Two -- Lodesfalle]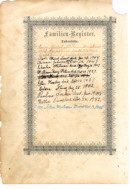 Issac Michel Mitman Deid Dec. 1 1873 Age 8 year 7
months & 14 days Text 1 John 4 Chapter 50 verse
Feietta Weirch Faust died Jan. 28 1944
Minnie Johnson died Oct 29 1947
Charles Mitman died [illegible] May 26 1947
William Henry Mitman died Oct 29 1937
[entry scribbled out]
Ellen Nankey died Sept 26 1931
Clara Stump Aug 28 1942
Pauline Forker died June 19 1948
Nattie Stump Dec 24 1942
Milton Mitman Died Nov. 9, 1948

---------------END TRANSCRIPT----------------