Nelson Bible
The English Version of the Polyglott Bible Containing the
Old and New Testaments, Franklin, N.H., published by
Peabody and Daniell. 1844. Similar to Hills #1166, but
dated 1844 instead of 1843.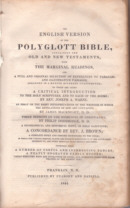 This Bible is in fair condition. It is covered in cloth and the
signatures have been very crudely sewn together. Appears
complete.
Transcribed by and in possession of Tracy St. Claire,
.
SURNAMES:
NELSON
LORING
FULLER
GRIFFETH
HASKELL
FOY
RYDER
MANN
---------------START TRANSCRIPT-------------------------
[Page One]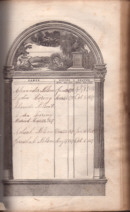 Names
Births
Deaths
Alexander Nelson
June 13 1795
July 9 1886
Lydia Loring
Mar 31 1795
Oct. 4. 1819
Alexander Nelson &
Lydia Loring
Married Mar 24 1817
Achsah Nelson
Dec 22 1817
Jan. 2. 1820
Jerusha C. Nelson
May 17 1819
Oct. 1. 1819
[Page Two]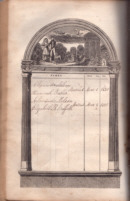 Alexander Nelson Married Hannah Fuller Mar. 1. 1820
Alexander Nelson Married Elizabeth B. Griffeth Mar. 4. 1830
[Page Three]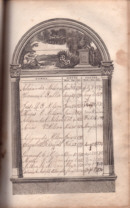 | | | |
| --- | --- | --- |
| Names | Births | Deaths |
| | | |
| Alexander Nelson | June 13 1795 | July 9 1886 |
| Hannah Fuller | Aug 29 1794 | Aug 5 1829 |
| | | |
| Jesse L. Y. Nelson | June 28 1822 | May 17 1870 |
| Moses C. Nelson | Jan. 28. 1824 | unknown |
| Alexander O. Nelson | Oct. 6 1825 | Feb. 26 1917 |
| Ann V. Nelson | Nov. 30 1826 | May 22 1846 |
| | | |
| Alexander Nelson | June 13 1795 | |
| Elizabeth B. Griffeth | Feb. 22 1797 | Aug 21 1874 |
| | | |
| Samuel A. Nelson | Dec. 10 1820 | April 25, 1898 |
| Martha J. Nelson | Aug. 5 1832 | Nov 21, 1895 |
| Nathan A. Nelson | May 16, 1835 | Sep 1st 1879 |
| Octavia A. Adopted Daughter | June 24 1840 | Sept 8th 1876 |
[Page Four]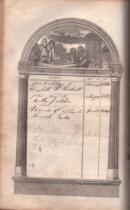 Jesse L. Nelson to Elizabeth B. Haskell February 23 1848
John Foy to Martha J. Nelson May 29 1853
Alexander O. Nelson to Hannah Ryder Jan. 18 1848
Nathan Nelson to Sarah Mann of Boston March 22 1866
------------END TRANSCRIPT-------------------------------