This record was transcribed from A Few Family Records No. 7,
Milo Custer, Bloomington, IL, 1922, self-published. Unpaginated.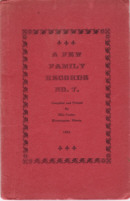 Transcribed by and in the possession of Tracy St. Claire,
tracy@stclaire.org.
SURNAMES:
OSBREY
LESTRANGE
SMITH
Below this line, verbatim from source. The "now owned by"
phrase was penned in 1922.
-----------------TRANSCRIPT STARTS-----------------
OSBREY.
From mss. record in an old King James bible containing
the Church of England liturgy, etc. printed at Dublin, Ireland,
1722, and now owned by Frank G. Morgan, 108 N. Gridley
St., Bloomington, Ill.
Inscription on the inside of front cover reads as follows;
"Wm. Ramsden Smith, Halifax. The Gift of his Grandfather,
Wm. Osbrey, Esq."
"William Osbrey born ye 10th of May 1705."
"Maryed Mary Lestrange 24th June 1730."
"She was born 10th of Nove'ber 1718."
[Children;]
"William born August 8th 1737. died 29th of June."
"William again, born June 13, 1739."
"Mary born July 26, 1740. She died the 13th of August
following."
"Edward born December 7, 1741."
"John born December 27, 1742."
"Mary [again,] born Feb'y 9th 1743-4."
"John died April 16th 1744."
---------------END TRANSCRIPT----------------