Plum Bible Pages
This Bible record was separated from the Bible.
The pages look to date around the early-to-mid 19th century.
This family is found in Washington, Logan County, Ohio
in the 1860 US Federal Census. All were born in Ohio,
except for Jonathan who was born in Virginia. The family
appears to be quite wealthy. Jonathan and his brother
Isaac lived on nearby property and purchased a parsonage
for the church. Both the Plum and McKinnon families appear
to be quite prominent in the area, with Sally related to
William Henry Harrison.
William Henry Harrison Plum apparently served with the 132
Ohio Infantry in the Civil War.
Several of these people are buried in the Plum Cemetery
in Washington Township:
Plum, Jonathan, d 11 Jan 1879, ae 70y 11m 3d
Plum, Sallie Ann, d 23 Nov 1873, ae 57y 2m 2d
Plum, Lewis S., 1857-1937
Plum, William H., 1845-1929
Plum, Kitty, d 24 Jun 1853
Plum, Elizabeth, d 14 Jun 1844
Plum, Milton
Transcribed by and in possession of Tracy St. Claire,
tracy@stclaire.org.
SURNAMES:
PLUM
MCKINNON
BROWNLIE
---------------START TRANSCRIPT-------------------------
[Page One -- Marriages]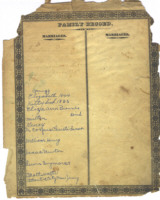 Jonathan Plum and Sally Ann McKinnon were
married on the 2nd day of April 1835
(young.)
Elizabeth 1844
Kitty died 1853
Eliza Ann Brownlie Died
Milton
Nancy
In Corpus Christi Texas
William Henry
Isaac Newton
Lewis Seymour
Scott, Walter
Atlantic City New Jersey
[Page Two -- Births]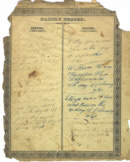 Jonathan Plum was Born on the 8th day of February 1808
Sally Ann Plum was Born on the 20th day of Sept. 1816
Nancy Jane Plum was born on the 14th day of January 1836
Elizabeth Plum was Born March the 20th day 1838
John Plum was born on the 4 day of July 1840
Kitty Plum was Born on the 1 day of September 1842
William Henry Harrison Plum was born on the 18th day
of Febuary 1845
Eliza ann Plum was born on the 21 day of february 1848
Isac Plum was Born on the 24th day of September 1850
[Page Three -- Births]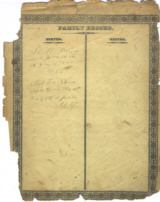 Nov 21 57

Scott Plum was Born on the 26 Day of November 1852
Milton Plum was Born the 15 Day of aprile 1855
[Page Four -- Deaths]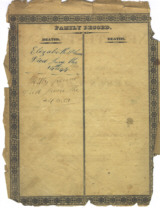 Elizabeth Plum Died June the 14th 1844
Kitty Plum Died June the 24 1853