Pugh Bible
The Holy Bible Containing the Old and New Testaments.
W.A. Burnham, Syracuse, N.Y., 1871. Similar to Hills #
1829, except this one is dated 1871.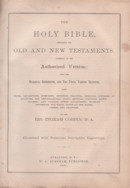 This Bible is in fair condition, with the covers attached to
the Bible with electrical tape across the spine. I hope the
original spine isn't underneath. There are a few identified
pictures in the place for pictures.
"George Pugh Buffalo wife & Baby"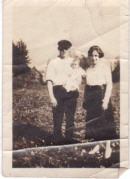 "Orma H. Small & Sarah Pugh Small, 22
years old Orma" and a third picture of Orma.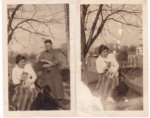 There are flowers pressed between pages, and an obituary.
The handwriting is terrible, and someone wrote over some
terrible entries and clarified absolutely nothing. See the scans;
use my transcript as a guide.
Transcribed by and in the possession of Tracy St. Claire,
tracy@stclaire.org.
SURNAMES:
PUGH
SMALL
STANTON
CONRAD
COONRAD
CALLAGHAN
RIEM
BRUN
HUSS
DOWLING
QUILLING
REYNOLDS
WOODIN
-----------------TRANSCRIPT STARTS-----------------
[Front Flyleaf]
John Pugh May 3 1860
[Page One -- Marriages]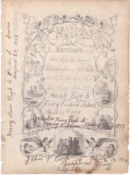 John Pugh to Mary Ann Callaghan of Chicago, Ill. Sept. 6, 1855
Second; To Barbara Riem July 1st 1860 Utica, N.Y.
Sarah Pugh to Henry Fredrick Small April 24th 1889
Charles Henry Pugh to Mary H. Brun October 4th 1899
John P. Pugh to Josephine Huss Febery 12 1900 Buffalo N.Y.
Mary Ann Pugh to Theodore S. Greere [?!? looks like Grrrre]
Utica N.Y.
[Page Two -- Marriages]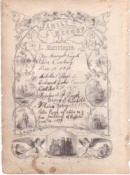 Mr. George E. Pugh
Martha Alice Dowling Dec. 16. 1890
Estella P. Pugh To Edmund John Conrad
October 5th 1891
Fredrick J. Pugh to Mary Elisabeth Phair [or Pheur] May 31,1892
[this entry has a "5th" written above which doesn't appear to relate
to anything]
Peter Pugh of Utica N.Y.
Lou Quilling of Buffalo June 16 1897
[Page Three -- Marriages]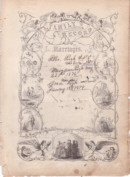 Peter Pugh was born Sept 6th 1874
Mary Ann Pugh May 22nd 1876
Grace Marian Pugh was Born Janary 18th 1879
[Page Four -- Births]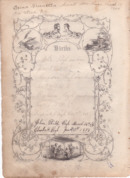 John Pugh was born June the 7 1831
MaryAnn Pugh was born Nov. the 4 1838
Barbara Pugh was born Nov the 7 1839
Fredrick J. Pugh Dec 8th 1868
John Philop Pugh March 26th 1871
Charles H. Pugh Jan 20th 1873
Orma Henrietta Small was Born March 17 1900
in Utica N.Y.
[Page Five -- Births]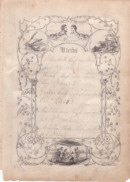 Elizabeth Pugh was Born July the 17 1856
Sarah Pugh was born May 7 1862
George Evan Pugh was born Oct the 3rd 1863
Matilda Ann Pugh was born July 19th 1865
Astella Phebe Pugh was born Oct 18th 1866
[Page Six -- Deaths]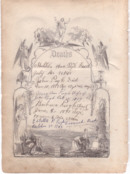 Matilda Ann Pugh Died July the 26 1865
John Pugh Died Nov 10 1888 Age 57 yr 5 m 3 days
Mary Ann Pugh Wife of John Pugh Oct. 24. 1857
Barbara Pugh wife of John died June 5 1891 age
51 years 6 mo. 28 da
Estella P. Pugh Coonrad Died Oct 30 1905 age 39 years
[Page Seven -- Deaths]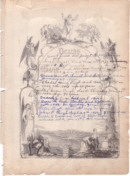 Henry F. Small died Janney 7 1917 Sunday morn 20m 8clock
Sarah Small Died Mar. 13th 1921 age 63 Sat. noon
Elizabeth Pugh Woodin Died Sunday Jan. 21st 1929
age 72 years 6 mo 28 days
Orma Henrietta Small died Saturday 4 a.m. January 23 1937
Charles Henry Pugh died Wed 6:15P.M.May 7th 1941 age 69 years
Geo. Evan Pugh died Thursday Jan 29th 1942 age 78 years
Frederick J. Pugh died Apr 5 1947
Grace M. Pugh Stanton died September 25th 1949. on Sunday,
70 years old
Peter Pugh Fri. April 4th 1952 77 years
John P. Pugh Sept. 29th 1952 81 years old
Ralph E. Coonrad son of Stella Pugh Coonrad died Jan. 27th
1958 Monday
[Page Eight -- Miscellaneous]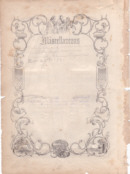 Ralph Edward Coonrad son of Stella Pugh Coonrad
married Elma Reynolds Nov. 25th 1931.
---------------END TRANSCRIPT----------------