Reynolds Bible

These pages were separated from the Bible, so the
date of the Bible is unknown. They were acquired from a
man in New York who saved the genealogical information
from Bibles that were being thrown away.
I estimate the era of these pages to be between 1830-1850.
Transcribed by and in the possession of Tracy St. Claire,
tracy@stclaire.org.
SURNAMES:
BEREAN
BERREAN
CONNOR
COVEY
HAMILTON
LOWE
MARTIN
MATHER
REEVES
REYNOLDS
SHERLEY
-----------------TRANSCRIPT STARTS-----------------
[Page One -- Marriages]
In Sempronius Oct. th 11 by Mr. Deboe Esqs Mr. Daniel Reynolds
Jr. to Mifs ?? W. Sherley all of the above named place 1816 N.Y.
In Sempronius Jan. the 22 1842 by B.F. Perry Esq. Mr. Daniel P.
Berrean to Mifs. Mary S. Reynolds.
In Benton, Ohio Dec th 17 1844, Mr. Erastus Reynolds, of Moravia,
N.Y. to Mifs Martha M. Martin formerly of Scipio N.Y.
In Moravia Oct th 7 1842, by Elder E. Wade, Mr. Albert Mather of
Sempronius, to Mifs Harriett S. Reynolds of Moravia.
In Moravia Feb the 15th, 1844, by Rev. Mr. Hasting Mr. Alva Covey
of Scipio to Mifs Lydia M. Reynolds of the above named place.
In Sempronius Feb. the 14 1847 by Andrew Smith, Esq. Mr. Ozias P.
Reeves to Mifs Almidia C. Reynolds.
Married in N. York Jan 4th 1855 Mr. Ezra B. Reynolds & Miss Ann
Connor by Rev. Mr. --- ---- of N. York Married in Moravia at the
house of the bride's father
Mr. James Lowe of Locke to Miss Molaney Reynolds of the former
place Feb 20th 1861 Moravia Cayuga N.Y.
[Page Two -- Births]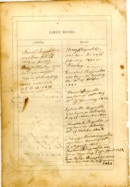 Daniel Reynolds Jr was born Oct 16th 1795 on Friday
Mxxy [Mary?] W. Sherley was born January 23rd 1799 on Wednesday
were married Oct th 11 1816
Mary Reynolds was born the 24 of february 1820 on thursday
Erastus Reynolds was born on tuesday the 16th of October 1821
Harriet S. Reynolds was born on Saturday 17th of January 1824
Lydia M. Reynolds was born on Satturday th 19 of November 1825
Almedia C. Reynolds was born on Saturday 11th of October 1828
Nancy Almira Reynolds was born Tuesday 17th of August 1830
Molaney Reynolds was born Monday th 9 of April 1832
Ezra Butler Reynolds was born Tuesday the 3rd of June 1834
[Page Three - Births]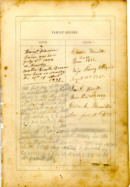 Harriet Minesira [?] Berian was born July 2nd 1844 on Tuesday
Martha Soasta [?] Berean was born on Sunday the 11th of
April 1847
[Immediately after this entry is a hard-to-read examination of
which day is the Sabbath day according to the Bible. Please
see the scan if you would like to try to interpret it.]
Charles Hamilton Born Dec 4th 1815
Mifs Nancy A. Reynolds August 17th 1830
Ira S. Hamilton Born Dec. 17th 1868
Willie C. Hamilton born June 18th 1875
[Page Four -- Deaths]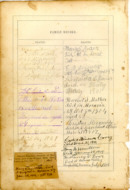 At her residence in Moravia March 5th 1867 Mrs. Mary W.
Reynolds aged 68 years one month and 18 days.
Just my Angel Mother.
At his residence Moravia Oct 14 1882 Daniel Reynolds
aged 87 years.
Ira Hamilton April 16, 1869 aged 4 months
[clipping]
Charles Hamilton formerly of this town, died at the Willard
State Hospital on July 2nd. 1901
Nancy A. Hamilton Died at Hospital in Moravia, N.Y.
Jan. 28, 1914, - 11:30 P.M.
Mary S. Bearen Did At her home J.B.
E.B. Reynolds At home April 4 1897
Almeida Reeves died in Iboty [?] May 1901
Harriet S. Mather died in Moravia N.Y. Oct 9th 1904 aged 82
Erastus Reynolds died in Cleaveland Ohio March 17 1907
Lydia Minerva Covey Died Dec. 31, 1911.
Nancy A. Hamilton Died January 28, 1914.
Molaney W. Lowe Died at Owasco Valley Hospital Moravia
July 6, 1915
[Paper]
Almeda Reynolds Reeves died of Heart Failure April 25th 1901
received the bad news May 8 was born Oct 11 1828 aged
72 years
Dearest Sister thou hast left us here My loss [?] deep by feel
but to God that has bereft us he can all our sorrows heal.
H.L.R. Mather
---------------END TRANSCRIPT----------------