Shippee Bible
The Holy Bible Containing the Old and New Testaments,
Philadelphia, Published by Jesper Harding, 1847.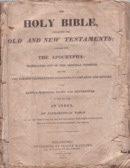 This Bible is in very poor condition, with the front cover
and front endpapers completely missing. Many other
pages are damaged, and it is possible that many more are
missing. There are some leaves, flowers, and a clipping
from New York, New York circa 1861.
One page of family information was removed. Of the remaining
page, the Marriages/Births side is blank, and the Births
page transcribed below.
Transcribed by and in possession of Tracy St. Claire, tracy@stclaire.org.
SURNAMES:
SHIPPEE

--------------START TRANSCRIPT -----------------------------------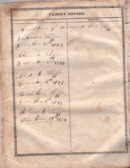 Children of Henry and Ann Shippee
Rhoda Ann Shippee
Born Jan 25th 1842
Nathan L. Shippee
Born May 2nd 1844
Albert H. Shippee
Born May 17th 1847
Sarrah Jane Shippee
Born Jan 3d 1849
William F. Shippee
Born June 14th 1852 [185X, last number hard to interpret]

-------------END TRANSCRIPT----------------------