Skinner Family Record
This family record is a copy of a Bible record, I expect. It was
carried around and looks like those presented for Revolutionary
War pensions and land claims. The name "Calvin Skinner" is
at the bottom and "Woodstock" is written across the side.
Calvin Skinner is a Revolutionary War Veteran from Woodstock,
Connecticut, who marched with George Washington.
This paper is in good condition although the reverse is fading.
The front is all one handwriting, last date 1767, and the reverse is
another handwriting, ending in 1813.
Transcribed by and in possession of Tracy St. Claire.
SURNAMES:
SKINNER
-------------------------------------------------------------------
[Front Side -- Side says "Woodstock", bottom says "Calvin Skinner"]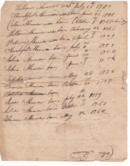 William Skinner was born July 16th 1720
Thankful Skinner was born June 23rd 1721
Calvin Skinner was born October 5th 1740 Sunday
William Skinner was born February 24 1745
Bethesda Skinner was born April 5th 1749
Thankful Skinner born July 2nd 1751
Sabra Skinner born June 30th 1752
Sabra Skinner born June 7th 1754
Tabitha Skinner born May 28 1756
Frances Skinner born October 21st 1757
Isaac Skinner born July 24th 1759
Luther Skinner born October [?]th 1760
Ebenezer Skinner born May 24 1762
[Reverse -- Bottom says "Ebenezer Skinner" and "Woodstock"]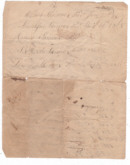 By
William Skinner died Jan 30th 1807 Aged 87
Thankful Skinner died April 16th 1805
Calvin Skinner died
Bethesda Skinner died
Fanny Skinner died May 21th 1813
------------------------------------------------------------------