Stevenson Bible

This Bible was up for auction on eBay in February 2003. The seller gave permission for the following photographs and transcriptions to be submitted to this site.
Transcribed by Tara Hawkins.
The first couple in this record, David Merrill Stevenson and Amanda Kerr, were from Pennsylvania according to Rootsweb submissions. [TSC]
Description:
This is and elegantly illustrated Bible with a hardback cover and measures approximately 9 1/2" x 13". The cover is in rough shape and is becoming dislodged from the binding. Original copyright in 1898 by John E. Potter, this family Bible is a New Oxford Quatro Edition.
SURNAMES:
BACON
BUROKER
COLLINS
COOVER
DUGAN
KELLER
KERR
LECLAIR
SHIPP
SOUTHERLAND
STEVENS
STEVENSON
STOUT
---------------------------------------START TRANSCRIPT------------------------------------------------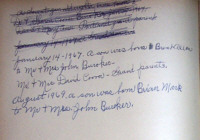 [Crossed out]
A Great granddaughter was born to Dr & Sharon Coover Buroker Jan 14 1967
David & Mary Ann Partesnal[?] grandparent
January 14- 1967 a grandson wa
[end crossed out]
January 14- 1967 A son was born to [crossed out] Brent Allan to Mr & Mrs John Buroker
Mr & Mrs David Coover - grandparents
August 1969 a son was born Brian Mark to Mr & Mrs John Buroker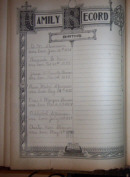 Births Pg 1
D.M. Stevenson was born Jan 16th 1835
Amanda C Kerr was born Oct 28th 1845
Jessie Willmetta Stevenson was born Nov 1st 1877
Anna Mabel Stevenson was born Aug 25th 1882
Frank Marquis Stevenson was born March 17th [7th?] 1884
Addiebel Stevenson was born July 14th 1889
Chester Kerr Stevenson was born May 13th 1890 [crossed out] 1891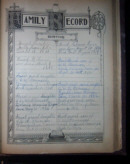 Pg 2
GrandDaughter Ruth Maxine Keller was born Oct 19 1911
David M Coover was born March 9 1903
Great grand daughter of D.M Stevenson Virginia Ann Dugan born March 10-1933
Great granddaughter of D.M. Stevenson Deloris Maxine Dugan born May 31 1936
Great granddaughter of D.M. Stevenson Sharon Ann Coover born Feb 11 1943
Next Column
Sarah Rebecca Kerr was born August 10 1841 Died Dec 10 70 years 1919
Great Grandson of D.M. Stevenson Davis Michael Coover … Sept 12- 1947
Great great granddaughter of D.M. Stevenson Lynda Ann Shipps born March 10-1952
Great great grandson Eddie Lee Shipp born May 4 1953
Great grandson of D.M. Stevenson David Michael Coover Jr Sept 12 1947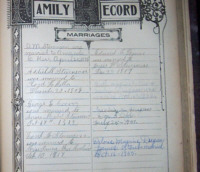 Marriages
D.M. Stevenson was married to Amanda C. Kerr April 25, 1876
Addiebell Stevenson was married to Floyd H Keller December 28 1909
George E Coover was married to Anna Mabel Stevens Oct 17th 1919
Frank M Stevenson was married to Miss Laura Mae LeClair[?]
Next column
Edward C. Bacon was married to Jessie W Stevenson Dec 22 1919
Ruth Maxine Keller & Melvin Dugan was married Nov 15 1932
Virginia An Dugan Don Shipp July 25-1957
Deloris Maxine Dugan James Stout married Oct 16 1955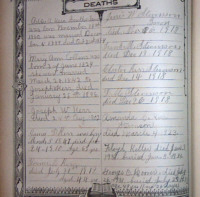 Deaths
Addie A Kerr Southerland was born November 18th 1860, was married December 5 1889 died Oct 31st 1884 [this is what it says, but that means she married 5 years after her death…maybe was supposed to be 1894]
Mary Ann Collins was born 3 of June 1824 she was married March 28, 1842 to Joseph Kerr, died January 28th 1896
Joseph W Kerr died 24th Aug 1902
James D. Kerr was born March 8 1847 died Feb 24 1910 age 63 yrs
Florence M Kerr died July 20th 1919 aged 44 yrs
Next column
Jessie W Stevenson Bacon [Baron?] died Nov 06 1918
Frank M Stevenson died Dec 13 1918
Chester Kerr Stevenson died Dec 14 1918
D.M. [?] Stevenson died Dec 26 1918
Amanda … Kerr Stevenson died March 4 1923
Floyd Keller died Jan 3 1931 buried Jan 5 1931
George E Coover died July 26 1931 buried July 28 1931 age 49 yrs 11 mo 21[4?] days