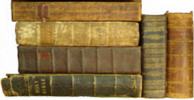 Family Bible Submission Guidelines
If you personally have a family Bible or a record that you would like to submit, please consider these guidelines. Nothing is absolute, and if you cannot follow these guidelines, please submit something anyway.
Please e-mail all submissions to Tracy St. Claire at tracy@stclaire.org. I hope to have a form on this site fairly soon, assuming my design and coding skills improve. My favorite formats for images are JPG and TIF, but I can usually read and convert most others, too. My favorite form for text is a regular ASCII TXT file, but I also use Microsoft® Word as well, which can read most formats.
I appreciate having both a transcript and the associated image files, but I will accept either.
More information is better than less information.
I often bundle Bible records and submit them to sites that deal with specific locations or family names. Please indicate if I can send yours along if it is appropriate.
Please include the following information with your submission:
Header:
--The primary family name in the Bible
--Your name and best e-mail address
--How did you get this Bible record?
--A description of the Bible itself, if available, with the publisher's name and copyright date
--Anything else in the Bible?
--Where did this family live?
--Who currently has this Bible?
--Any other relevent comments
Transcript:
--Transcribe sequentially through the Bible -- starting with any inscriptions
through the back pages.
--Be sure to check the between the Old Testament and the Apocrypha, and the
Apocrypha and the New Testament. This is a common place for families to record
information.
--Copy the information word for word, and do not correct spelling.
Place comments in [brackets].
--If you cannot include a scanned image of each page, please consider having someone
proofread the submission before you send it. Old handwriting is tricky, and almost
every day I receive a correction on a Bible I have transcribed. Further, it is always
possible that your record will be the only one ever made.
Thank you very much.