Tiffany Bible
The New Testament of Our Lord and Saviour Jesus
Christ. New York, Daniel D. Smith, 1831.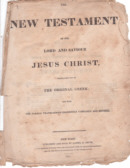 The information above was taken from the New Testament
title page. This Bible is really beaten up. The spine is gone, and
the pages are just a loose sandwich between the covers,
which are there. The main title page is gone, as are an unknown
number of other pages. The genealogy remains, however, along
with a loose cabinet photo of an unidentified man from Jamestown,
NY.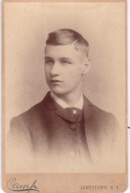 Transcribed by and in the possession of Tracy St. Claire,
tracy@stclaire.org.
SURNAMES:
TIFFANY
COOK
SERVOSS
MCDOWELL
HOMER
COWDREY

-----------------TRANSCRIPT STARTS-----------------
[Page One -- Marriages]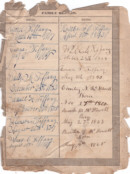 Isarel Tiffany To Lucena Cook Feburary 17th 1831
Alonzo J. Tiffany to Azora V. Servoss September 7, 1879
Archibald T. McDowell To Roselia F. C. Homer Sept.
16th 1860 at Frewsburgh N.Y.
[Page Two -- Births]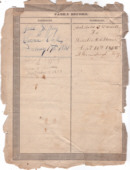 Isarel Tiffany March 14th 1807
Lucena Tiffany Jany 2d 1810
Sally M. Tiffany December 23th 1832
Samuel N. Tiffany September 20th 1833
Alanson S. Tiffany August 26th 1837
Alanzo C. Tiffany August 18th 1839
Roselia F. C. Tiffany April 11th 1842
Wallace J. Tiffany October 24th 1844
Lonson P. [?] Tiffany May 3th 1850
Emiley N. McDowell Born Nov. 27th 1861
Annah D. McDowell Born May 27th 1863
Beartha G. McDowell Born May 4th 1865
[Page Three -- Births]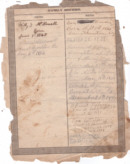 Willy Y. [?] McDowell Born June 1 1868
Archibald T. McDowell Born at Franklin, Pa
May 31st 1834
Died Archibald T. McDowell Aged 8 yr [?]
8 m 18 days
Eva Cowdrey Born Sept. 1st 1855
Born at Jamestown N.Y.
died Oct 20 1921
Lucena M. Tiffany Daughter of Chapin & Mary Tiffany
Born Aug 27th 1864
Ela Aletta Tiffany Born May 15th 1869
Wm John Tiffany Born at Jas Town N.Y. December
20th 1871
W. Ernest Tiffany Born at Jamestown N.Y. August
21 1881
Orra Jay Tiffany Born at Jamestown November 28, 1894
Died Dec 2, 1894
Merle J. Tiffany Born at Jamestown N.Y. Oct. 20, 1900
[Died April 1974 according to S.S. Death Index -- TSC]
[Page Four -- Deaths]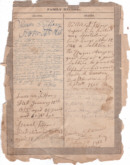 Alanson S. Tiffany October 26th 1838
Behold earth has lost a bright flower
It was plucked in its earliest bloom
He withered and died in an hour
And now lies confined in the tomb
But methinks we may not [something] him here
Confined in this narrow abode
But behold him now blooming more fair
Before the bright throne of the Lord
Ye parents behold your sweet Boy
Locked in the dear saviours embrace
Whare in inocent beauty he smiles
And bids you to dry up your tears
And oh could he now fly to you
How would he entreat you to come
That you might partisipate too
In the joys of his heavenly home
By J.W. Phillips
Lucena Tiffany Died January 10th 1855 aged
45 years and 8 eight days
Israel Tiffany Died November 28, 1863 aged
56 years & 8 months
Wallice J. Tiffany Suposed to be killed near Spootsilvany
Court House May 12 1864 a Soldier in the Union Army
an good boy and a good Soldier, he gave his life for his
country
Sally M. Cowdrey Died at Fredonia N.Y. Sept. 18th
1868 35 years 9 months & 17 days
Ela Alexa Tiffany Daughter of Chapin & Mary Tiffany
Died Aug 12th 1870 Aged 1 year 2 months & 27 days
Emiley N. McDowell Died at Cinderville [?] N.Y.
October 7th 1862 11 Months & 10 days
---------------END TRANSCRIPT----------------