Turpin Bible
This record was transcribed from the Daughters of the American
Revolution Magazine, Vol. LVI August, 1922 No. 8, p 477. This is from
the "Genealogical Department" appearing in each issue, and the
entries are brief and have abbreviations.
SURNAMES:
TURPIN
BANCROFT
Everything below this line is verbatim from the source document,
with some formatting changes to improve readability.
------------------------------------------------------------
10214. TURPIN.-- Children of Horatio Turpin of Va. are
Edward Augusta b Jan. 8, 1804;
Thomas Jefferson b Jan. 12, 1807 d Oct. 1820;
William b Oct. 21, 1805 d Nov. 12, 1805;
Philip Osborn b Oct. 1, 1808;
Wm. Henry b Apr. 16, 1810;
Peter Field, b July 18, 1812, d Dec. 5. 1827;
Horatio Harris b Jan. 10, 1815;
Mary Elizabeth James b May 23, 1817;
Powhatan Virginius Americus b Feb. 12, 1819;
Harriet Caroline Matilda m June 19, 1821 d Sept. 3, 1846;
Thomas Jeffereson [sic] b June 5, 1823 d May 14, 1907;
Anna Cornelia b Oct. 3, 1825.
Write to Mrs. Sally Chambers, Warsaw, Ky. [note: this was
published in 1922] for information of the marriage of Mary
Elizabeth Turpin. The names of the ch are found in the old
Turpin Bible which was given to Thomas Jefferson Turpin by
his grandmother, Mary Bancroft in 1833.
--Mrs. C. R. McNabb, 934 Columbia Ave., Ft. Wayne, Indiana.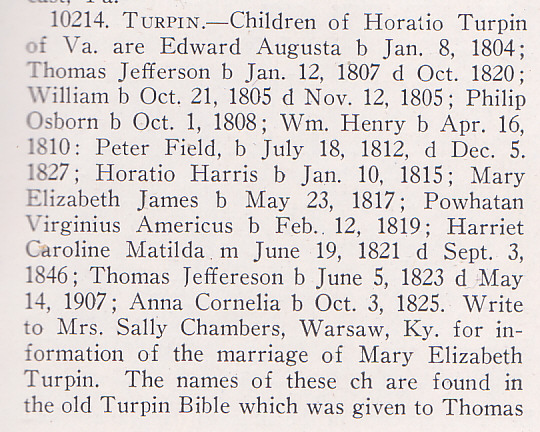 -----------------------------------------------------