Unknown Surname Bible (German)
Die Bibel oder die ganze Heilige Schrift, Hannover, 1843. This Bible is in very good
condition, with all pages present and intact, and the binding in very good condition
with some scuffing and cracks. There is significant foxing on the pages but little
wear. It does not appear to have been used very much.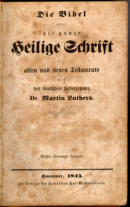 I am unable to transcribe or translate these pages. They are in German, with
the fraktur-style handwriting.

SURNAMES:

-----------------------------------------------------------------
[Page One -- Front Flyleaf]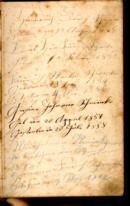 [Page Two -- Front Flyleaf]
[Ephemera in Bible]