Whitney Bible
The Holy Bible Containing the Old and New Testaments,
New York, American Bible Society, 1855.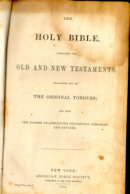 This Bible is in fair condition. The inside pages are all present,
with few tears and little foxing. The back cover is off, the spine
has about an inch of loss at the bottom, the front cover's
leather is nearly off, and the front cover is holding on by a
couple of ropes. I've seen far worse, and this would repair
well.
I have not found much about this family, but the LDS site
puts the marriage in Cumberland County, Maine.
Transcribed by and in the possession of Tracy St. Claire,
tracy@stclaire.org.
SURNAMES:
WHITNEY
HULIT
-----------------TRANSCRIPT STARTS-----------------
[Page One -- EndPage]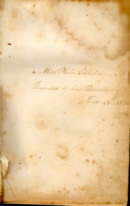 Mrs. Phebe Whitney
Presented by her Parents
Dec 15th 1855
[Page Two -- Marriages]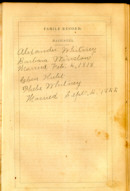 Alexander Whitney
Barbara Winslow
Married Feb. 5, 1818.
Eben Hulit
Phebe Whitney
Married Sept. 5 1855
[Page Three -- Births]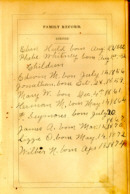 Eben Hulit born Aug. 29, 1822
Phebe Whitney born Aug. 1st "32
Children
Edwin M. born July 15, 1856
Jonathan born Oct. 28, 1859
Mary W. born Dec. 4th, 1861
Herman M. born May 14, 1864
P. Seymour born July 20, 1867
James A. born Mar. 15, 1870
Lizzie O. born May 14, 1872.
Wilber N. born Apr 18, 1874
[Page Four -- Inserted Loose Page]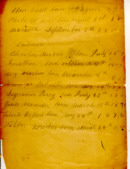 Eben Hulit born August 29
Phebe W. Hulit born August 1st 18
married September 5th 1855
Children
Edwin Merced born July 15th
Jonathan born October 28th 1859
Mary Winslow born december 4th 1861
Herman Melville born May 14th 18
Seymour Percy born July 20th 186
James Alexander born March 15th 187
Lizzie Osgood born May 14th 1872
Wilber Norcross born April 18th 18
[Page Five -- Card]
Cover: Your kind expression of sympathy
is deeply appreciated and gratefully acknowledged
Inside: Charles & Howard Lindell
Dorothy & Joan Lindell
Mr. & Mrs. Raymond Soper
&
The Peterson boys & families

---------------END TRANSCRIPT----------------