Wilson Bible Pages

These pages were separated from the Bible, so the
date of the Bible is unknown. There are four pages present
in this set -- a page titled Marriages and a page titled Deaths
are both blank and are not digitized below. The pages are
similar to those in early to mid-19th century Bibles.
I do not know where this family was located. This family
record was purchased with a group, most of which were
from Pennsylvania.
Transcribed by and in the possession of Tracy St. Claire,
tracy@stclaire.org.
SURNAMES:
WILSON
FLECK
-----------------TRANSCRIPT STARTS-----------------
[Page One -- Births]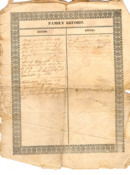 Nancy Jane Wilson was Born on the 12th day of August in the year
of Our Lord one thousand Eight hundred & forty three
Sarah Elizabeth Wilson Was born on the 22nd day of July in the year
of our Lord one thousand Eight Hundred & Forty Six
Catharine Wilson was Born on the 7th day of November in the year of
Our Lord one thousand Eight hundred & forty Eight
Mary ann Fleck was Born on the 14th of October in the year of our lord
one thousand Eight hundred & twenty four
[Page Two -- Deaths]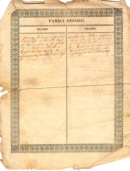 James Wilson departed this life on the 18th day of December in the year
of our Lord one Thousand Eight Hundred & fifty Two Aged 37 years 9 months
& 15 days
Catharine Wilson departed This life on the 31st day of August in the year of
Our Lord one thousand Eight Hundred and fifty one Aged 2 years 8 months
& 24 days